This is for you if…
• You want to feel authentic and in integrity with your true self
• You want to feel like you're living in alignment with your purpose
• You want a meaningful and fulfilling career
• You want to do more of what you are passionate about
• You want to replace limiting beliefs with empowering ones
• You want to create the life of your dreams
So, why this program? And why LIFE PURPOSE?
Knowing your LIFE PURPOSE is transformational!
• Know what you came here to do
• Know your unique contribution to the world
• Know what career would fulfill you
• Know how to use your gifts and natural talents
• See greater meaning in your past experiences
• See your curses as blessings
• Know what direction to go in life
• Feel empowered to go for your dream
The keys to unlocking purpose: Passions, Talents, Personality, Experiences, Beliefs
Your passions unlock the key to your happiness, your excitement, your fulfillment, your talents, and your success.
If you embraced your passions you would:
• Feel inspired with life
• Know what makes you feel alive
• Know what fulfills you at your core
• Feel excited to get up in the morning
But you see, many of us have forgotten our passions—they got pushed aside by our "shoulds" and obligations. In this program I'm going to help you realign with what you love, what feeds you, and what inspires you so you can live a life of purpose!
#1 Most important aspect of living a purposeful life – LIVING WITH PASSION!
This is a comprehensive program for discovering your LIFE PURPOSE and connecting with your highest calling.
DISCOVER YOUR LIFE PURPOSE
8-WEEK SELF-STUDY COURSE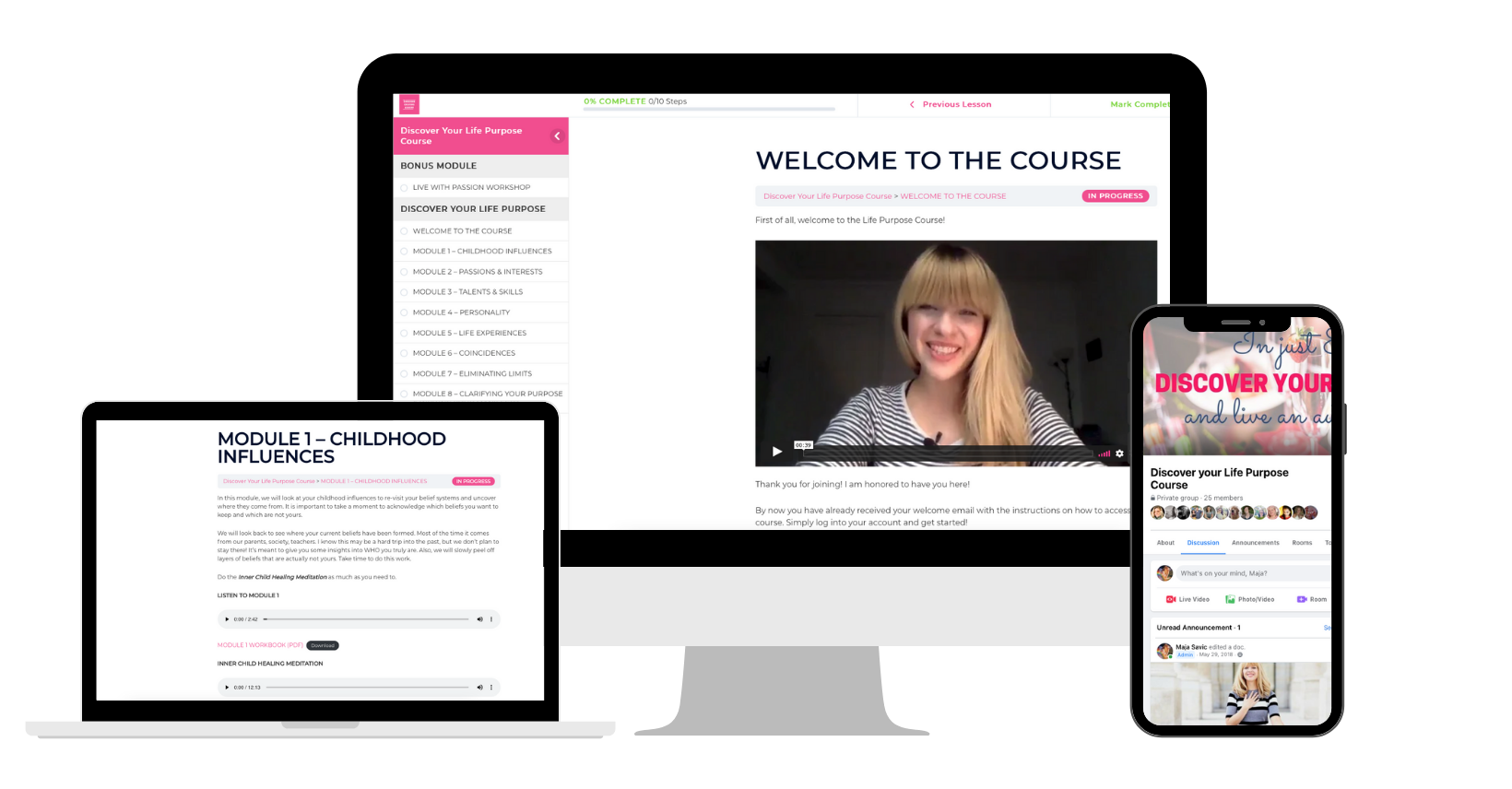 What you will learn in this program:
CHILDHOOD WONDER: Insights from your younger self.
YOUR PASSIONS: What do you love?
YOUR GIFTS: What do you have to offer?
YOUR DREAMS: What do you really want?
YOUR VALUES: What do you stand for?
YOUR COMMITMENT: How can you live in integrity?
In just 8 weeks we'll cover…
Week 1: Childhood Influences
Week 2: Passions and Interests
Week 3: Talents and Skills
Week 4: Personality
Week 5: Life Changing Experiences
Week 6: Coincidences
Week 7: Eliminating Limits
Week 8: Clarifying Your Purpose & Writing Your Manifesto
Finally, join the program if you want to:
✔ Live in integrity
✔ Have a fulfilling career
✔ Live with passion
✔ Stop limiting beliefs
✔ Create the life of your dreams
✔ Fulfil your purpose
""I have made the program Life Purpose Coaching of 8 weeks with Maja Savic and I'm really grateful and happy to have done this program. I really appreciate all support that Maja has given me. It helped me a lot to understand and clarify my life, discover some passions and dreams that I've forgotten, discovering some blocks and limiting beliefs that are blocking my life. Maja was always supportive, with good energy and positivism, with always lots of ideas that could help me improve my life, and also realistic and genuine. Now, thanks to this program I'm more aware of my life and the areas that I must work on. Thanks Maja for everything. I really recommend this program if you want to discover and clarify your life purpose."

Marlene Costa (Portugal/France)

IT Developer
""Maja is a coach with a great spirit: joyful, friendly and full of enthusiasm. Maja has help me let go my limiting beliefs and discover a fresh way of setting a plan to realize my goals."

Elli Ivkovic
 (France)

Multi-passionate Creative Professional
 & Aspiring Stand-up Comedian
ENCOURAGING MESSAGE FROM YOUR COACH!
This program has helped me understand myself, as well as my life purpose, in so much depth, and has given me a new clarity of my true path. I have developed new daily rituals to help me transform my life in a positive direction so I can truly live in alignment with my purpose. I learned new tools to be proactive in taking control of my life and have been successful in manifesting my dream life. This is a comprehensive program that will give you a lot of insights about your true self and is carefully designed to give you full support and guidance on both practical and spiritual level. I combine different techniques I learned over the years and help guide you to achieve your goals.
Remember – you CAN live the life you deserve! You CAN be HAPPY! Seize the day and follow your heart's desire! It's totally worth it. 🙂
Cherish this gift of life you've been given and be your True Self! I cannot even describe how wonderful it is to live the life you truly desire and fulfilling your purpose! Imagine waking up every day and knowing you are doing exactly what you were supposed to do on this planet. It's an amazing feeling and I wouldn't trade it for anything else. Don't settle. You can do better. We are all unique and special and if we are happy we make this world a happier place too.
Hope to be a part of the biggest adventure of your life! It would be an honor to serve you.
""The Life Purpose Program was 8 weeks of incredible healing work, belief clearing, meditations, card readings and unlimited support. The sessions were so extremely insightful, healing and transformational and the 8 steps toward life purpose, the activities and exercises which I found very powerful, practical and useful helped me clarify my purpose, transform my life and live in alignment with my life purpose. As a curious person and feeling that something was missing in my life I was seeking a deeper purpose in my life. All this came at the time I was ready to move towards finding my inner purpose so it is truly priceless. I've had sessions with Maja where my major blocks have been removed and feel empowered and experienced a shift so that I could move forward in my life in areas of my life that it has been difficult for me to move. I felt that all sessions were filled with love, light, support and positive energy. I want to thank Maja for being such a loving, creative, non-judgemental, encouraging coach and spirit. She empowers people to reach their dreams and find their purpose in life. She has a gentle and direct style that helps you feel safe and yet challenged to move beyond and to align yourself with your life purpose. I learned so much and found the experience very valuable. I was really blessed to participate in this program and shared an incredible experience with another supportive and beautiful soul like Stâna. I wouldn't hesitate to highly recommend Maja and her programs to other people. If you want to transform your life and live in alignment with your life purpose this is the program to be."

Evana (Albania)
DISCOVER YOUR LIFE PURPOSE
DURATION: This is a self-study 8-week course.
WHAT IS INCLUDED?

8 modules with pre-recorded audio tracks + worksheets


Complete course materials – All worksheets from the program which include 13 activities to help you clarify your purpose (50+ PAGES OF MATERIAL)


Access to a private FB community where you can get in touch with other purpose seekers and get my full support during your course


Pre-recorded audio tracks to guide you through each step (downloadable)


Additional healing sessions to help you work through the blocks and limiting beliefs (downloadable)
> Hypnosis for anchoring confidence
> Programming confidence with Subliminal Messages and Theta Waves
> EFT tap-along for boosting Confidence
> Healing Inner Child Meditation