https://www.youtube.com/watch?v=4BfKFCOCJe8
We begin on August 8th 2022
Life isn't meant to be boring.
Ever feel like you are meant for something bigger?
Join the Challenge!
You start your daily practice, but don't really stick with it?
You meditate, but have troubles discerning intuition from your ego-mind?
You've done a lot of healing, but you still feel stuck?
You have forgotten about your dreams and every day feels the same?
Life, right?
It can throw us off track so easily sometimes.
What if it can be full of
miracles, magic, and adventures?
You know you are only a decision away from your dream life.
But you feel scared. It's unknown.
What if it doesn't work?
What if you don't have what it takes?
Dreams may feel unreachable sometimes…
The thing is,
it's all in your mind.
You have the power to change whatever you want and make a difference in your life for the better!
Anything is possible if you believe.
Give yourself permission to dream bigger!
What if you can have what you truly desire?
I mean, have it all – a beautiful home by the beach, financial freedom, the ability to treat your loved ones and give them amazing experiences to remember?
What would that look like?
What would it feel like?
Take a moment to tap into that vision and see what it would be like!
It's nice, isn't it?
You feel lighter, happier, more chill, and excited about life!
Wouldn't it be awesome to live in a way that feels soooo good?
Maybe today is the day when…
You'll say F*#% it, I want more out of life!
You'll wake up and decide to go for that idea you've been pondering!
You'll choose your own happiness!
You stop playing small and step out of your shell.
INTRODUCING 21 DAYS OF ABUNDANCE
Experience 21 Days of Divinely Inspired Practices To Manifest Your Wildest Dreams
Are you ready to make your dreams a reality?
In 21 days together we will:
✔ Clear karmic and ancestral vows of poverty, contracts, and debts that are blocking abundance for you in this life
✔ Get rid of any fears of failure and/or success once and for all
✔ Stop self-sabotage on all levels and give yourself permission to enjoy life
✔ Create sustainable practices to help you attract more money, opportunities and abundance in every form
✔ Learn how to have faith no matter what and stay in alignment
✔ Get practical tips on how to attract prosperity
✔ Start living a fun-filled life you actually feel excited about!
The next LIVE round starts on 8 August 2022!
Join TODAY and get immediate access to BONUS MATERIALS!
THE CHALLENGE KICKS OFF IN...
Here is what people are saying about this challenge…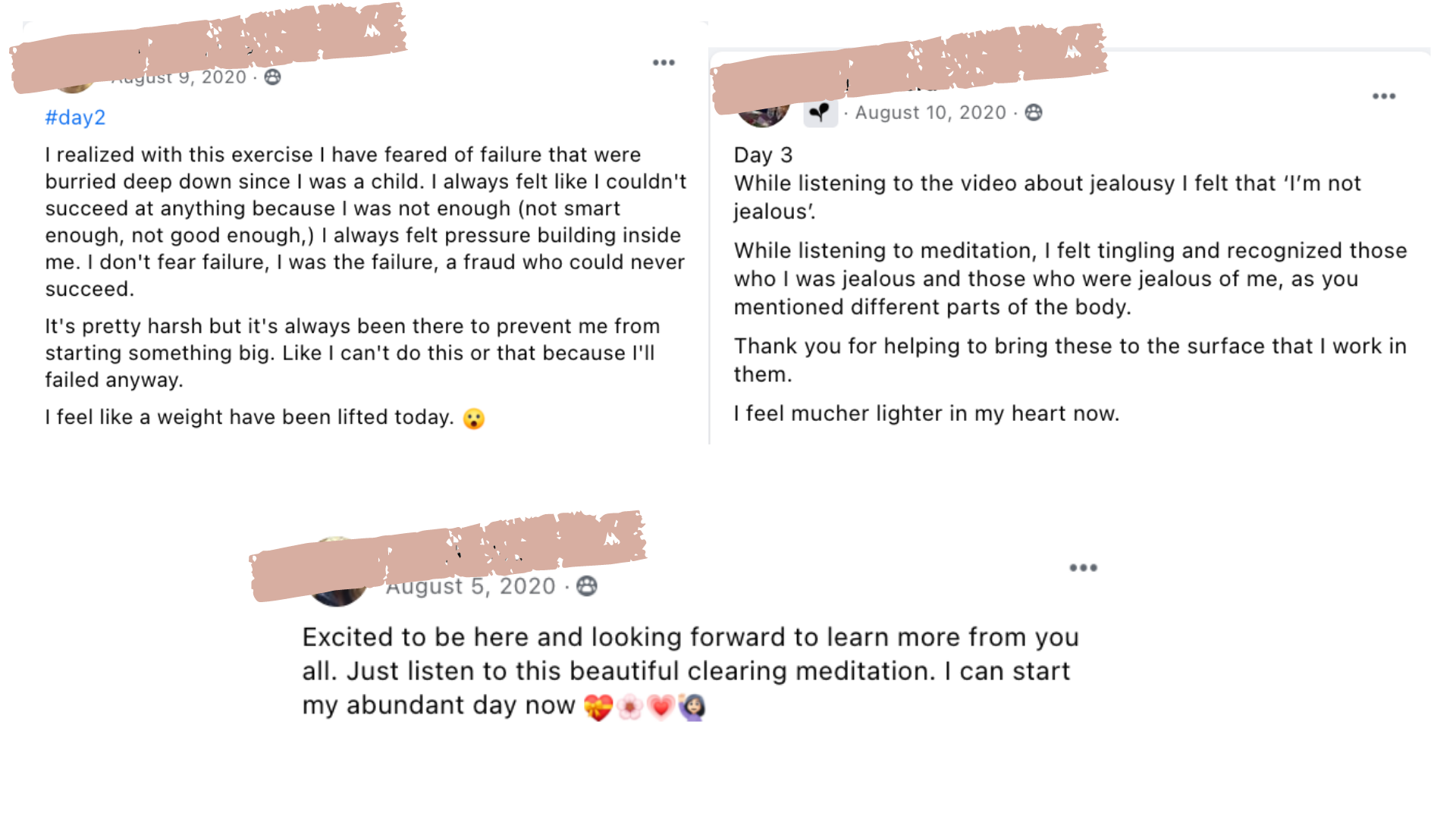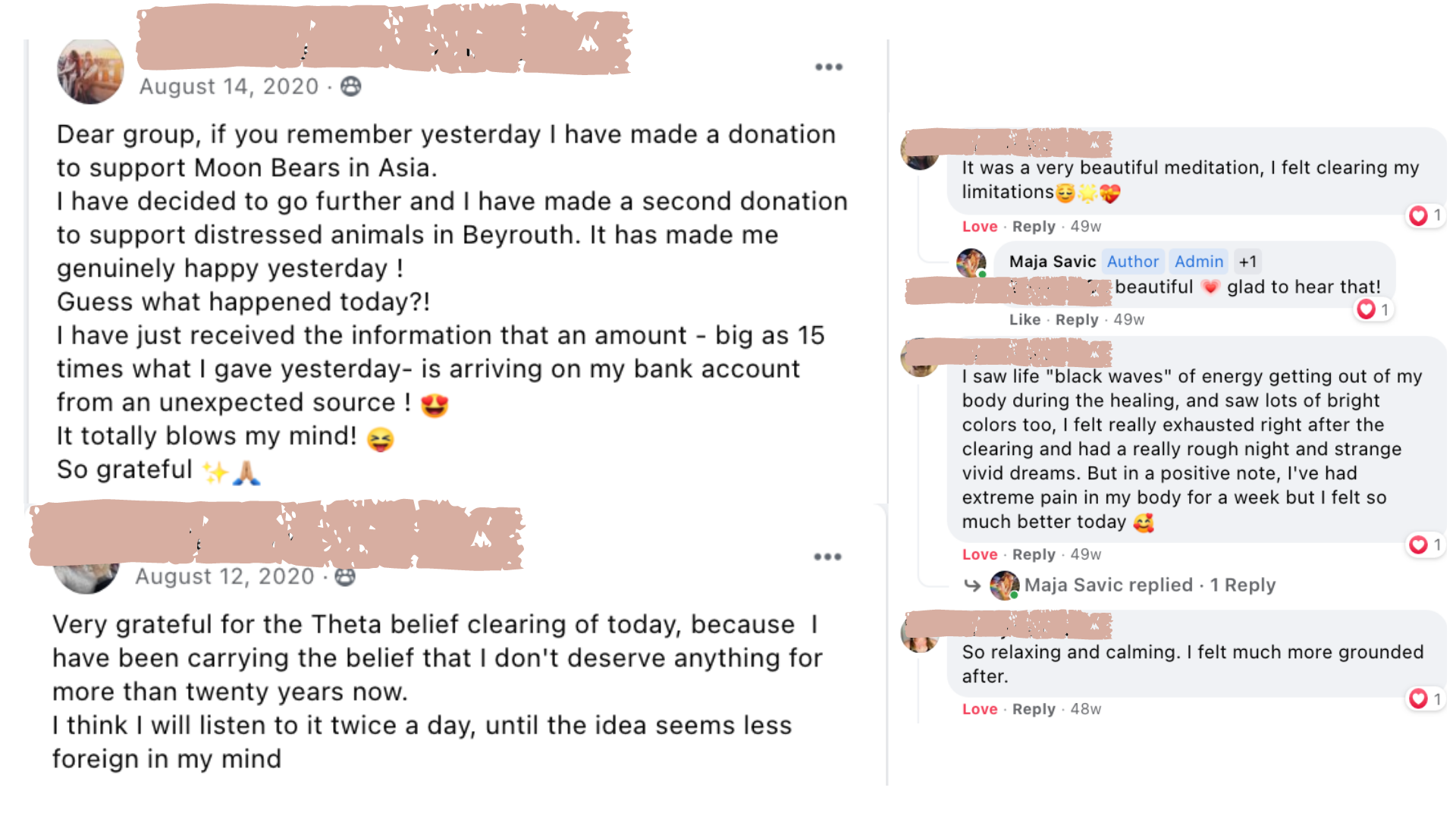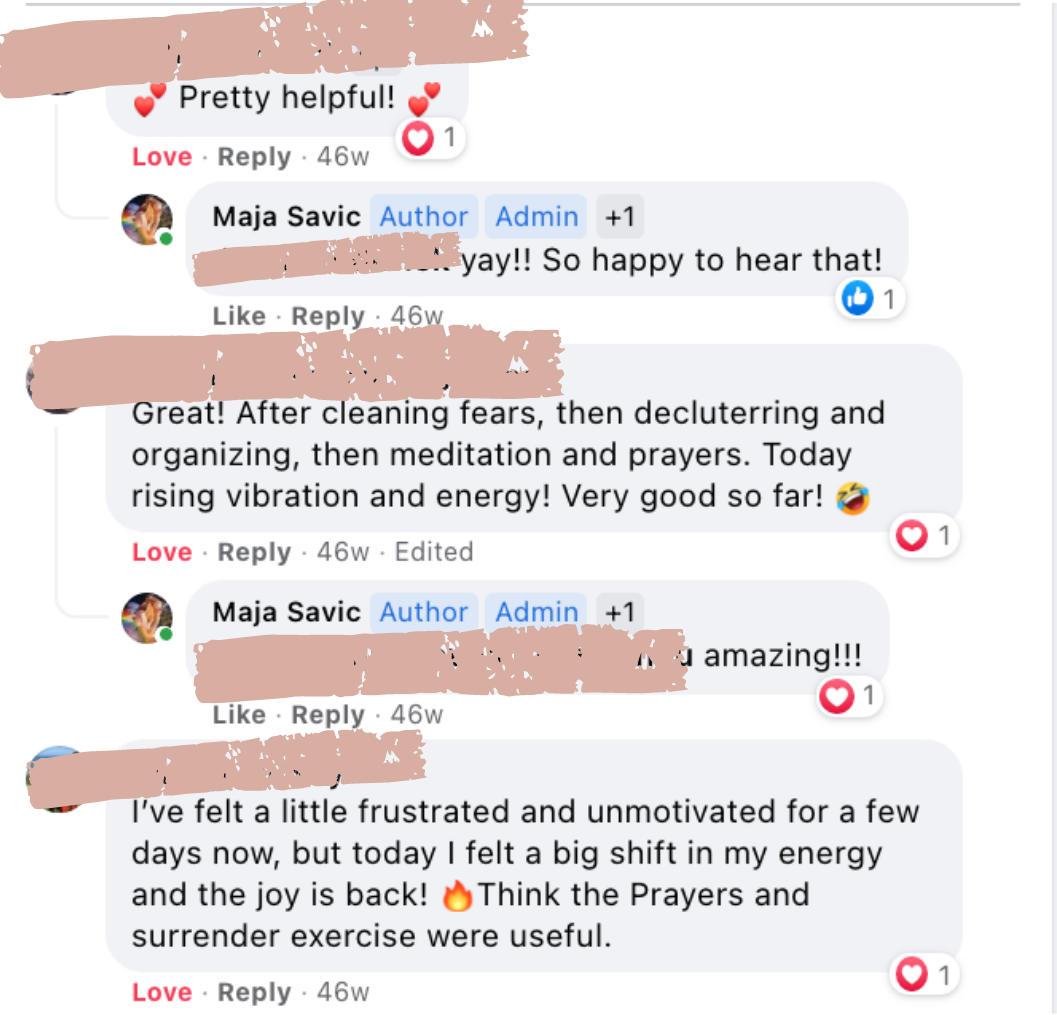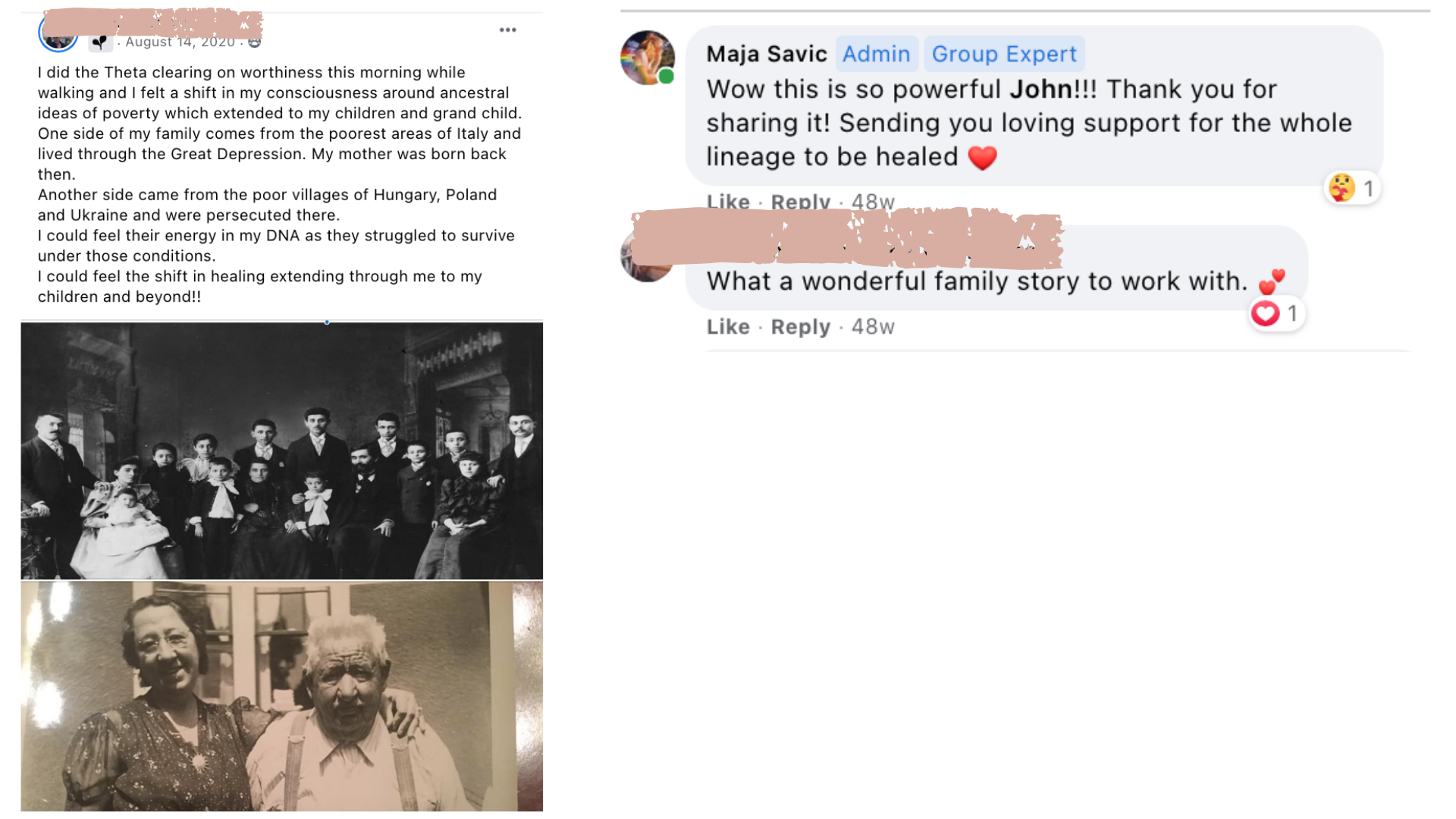 Why do it alone when you can have a high-vibing community to support you!
Your dreams matter and you deserve to be happy.
Having someone by your side who believes in you makes a huge difference, and suddenly everything is possible!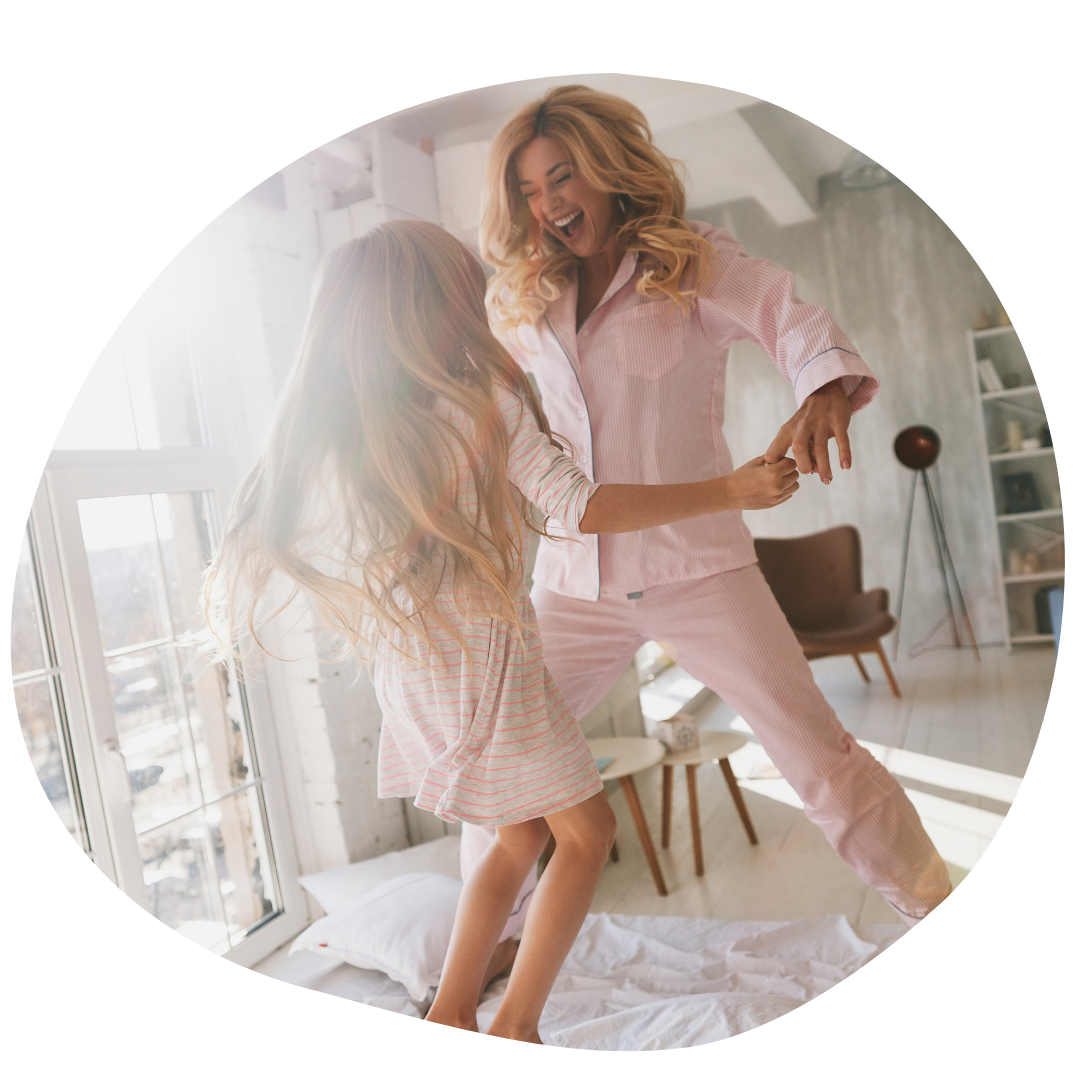 This is for you if:
✔️

You're ready to clear limiting beliefs around money, self-worth, and abundance


✔️

You'd like to create a sustainable practice to stay in alignment


✔️

You're ready to drop the struggle and align with ease and flow


✔️

You'd like to be a consistent magnet for abundance, ca$h, prosperity, and lucrative opportunities


✔️

You'd love to tune into your intuition, sharpen the signal and learn how to trust it
✔️ You want to have more faith in yourself and your abilities


✔️

You believe there is more to life and you feel ready to embrace it!
THE INVESTMENT
Honestly, this challenge is invaluable…but you can join today for just €47!!!
Hi there!
I'm Maja and I am a Holistic Coach & Healer (and a badass manifestor)! As you might presume I love challenges! When I was doing my Yoga TT we did challenges all the time, because it takes time to feel the true benefits of certain practices. Ever since I have been using them to create sustainable habits that help me stay in alignment, so I can attract whatever I desire.
For this particular challenge, I did something different and gave myself permission to be fully guided. Yes, every practice was Divinely inspired and it turned out better than I could've ever imagined. That is such a wonderful confirmation that when we give up control of our life experience, we can experience the magic of the Universe. Things work out in miraculous ways!
We start with powerful healing, move on to practical steps in the middle and finish with spiritual alignment. I honestly couldn't have planned it better myself, even though my process is quite similar.
These practices changed my life for the better and today I get to share this with YOU!
I'm super excited to have you join this beautiful journey and manifest amazing things!
Sending you loving support!
Life can be a fun and joyous experience if you let it.
FAQ
✔️

What can I expect from this challenge?
Powerful spiritual upgrades, belief clearings, beautiful meditations and healing sessions, live sessions in a private FB group for further support, a community of amazing people who you can connect to and share your experiences with, clarity about your vision, and support to manifest your dreams, Lifetime access with all upgrades!
The challenge is on my brand new platform the Conscious Creators Academy, where you register for an account upon purchase (or later) and access all materials. We start on August 8th when the Lion's Gate opens (a very powerful day for manifesting abundance!) and every day a new practice will unlock. Once you join you will receive an e-mail confirmation of your purchase and you can access the BONUS Theta Healing to start the process. I invite you to join the private FB community where you can connect with other participants, check out live calls from last year, and ask any questions. I'm there to support you all the way! We will have weekly live calls in the group where I will share more insights and do additional healings and guided practices. It's packed with goodness if you ask me 😉
✔️

How much time does each practice take?
Depends on the day, as each practice is different. Videos are 5-10 minutes long and healing sessions (mp3) take approx. 10-20 minutes. There are also journaling prompts and practical steps that might take longer, but that's up to you and how much time you are willing to take.
✔️

Do I have to be spiritual to do this challenge?
Not necessarily, but I ask you to keep an open mind. This course will have a ton of woo content, but also very practical and hands-on techniques and practices you can use. I like to combine both mindset, energy / spiritual, and practical activities, as I have found that brings you the best results.
✔️

I'm super busy right now. What if I don't have time to do the challenge now?
We officially start on August 8th, 2022 and you'll get one practice per day, but is up to you when you start. You have all content for life and you can join the challenge every time we do it live with no extra charge. The thing with challenges is that it's best to do it together with the group, as you'll get full support, but I get that we have lives and things can come up. Whether you miss. a day or two, I still encourage you to come back and complete the challenge at your own pace.
✔️

Are you offering a payment plan?
Yes, you can pay in 2 installments! This is also available via Paypal (if applicable in your country), so make sure to check out their official website.
✔️ I'm a guy. Can I do this challenge?
Actually, YES! Although I primarily work with women, I do have male clients/students and you are very welcome to join if you feel called to do so.
✔️

Do you offer scholarships?
Sometimes I do, depending on the situation. I usually announce this on my social media. If you do need an extended payment plan reach out to us at be@qinspiredlife.com and we'll see what we can do.
✔️

Can you guarantee specific results?
I have personally found that doing 21-day challenges really helps create sustainable practices. It takes at least 3 weeks to make a solid change in your life, so I believe you will get amazing results. I do challenges like these whenever I need to get back into practice. These are the principles I've been using for years with great success and I have manifested amazing things! I truly do believe that if you do the work and keep up your practice your life will improve in a positive way. Most of my students get amazing results and are very happy with it, as you can see from their testimonials, however, this is very individual and greatly depends on how much work you do on your own and where you are at in your personal development journey. Legally I have to make sure to be clear on this and share with you this DISCLAIMER – I don't guarantee or warrant results of increased abundance or financial income. The testimonials on this page may not be typical for all students.
✔️

What is your refund policy?
I honestly don't think you'll need or want one, as I believe you were called to do this challenge for a reason. However, I understand that you'd feel more comfortable signing up knowing you have that option. So here is what we can do – once you sign up you'll get access to my BONUS materials. Check them out to get a feel of my methodology and if you think it's not right for you, send an email to be@qinspiredlife.com within 3 days of your purchase and we will send you a refund.
✔️

Got more questions?
Contact us at be@qinspiredlife.com for help!
On August 8 Lion's Gate opens and a surge of abundance will come in!
Are you ready to receive?
TO RECAP HERE IS WHAT YOU GET!
DAILY PRACTICES:
✔
21 PRACTICES (pre-recorded VIDEOS + MP3) – clearing vows of poverty, fear of failure/success, subconscious clearing of limiting patterns, forgiveness & surrender, EFT tapping with affirmations, and so much more!
✔ 3 WEEKLY
LIVE Q&A CALLS in a private FB group
✔ Access to Private FB Community for additional support
✔ Free participation every time we do the challenge live
✔ BONUS Theta Belief Clearing of Major Money Blocks (mp3)
LIFETIME ACCESS WITH ALL THE UPGRADES!
Ready to step up your game and start living your dreams?
THE CHALLENGE KICKS OFF IN...